Chazzanut Online
Max Bruch,
Kol Nidrei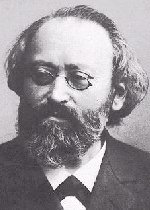 Op. 47, Adagio on Hebrew Melodies for Violoncello and Orchestra. [Listen to a midi]
This page contains some background information concerning Max Bruch's arrangement of Kol Nidrei.
"There is hardly any other traditional Jewish tune that attracted so much attention from the composers of the last century. Innumerable are the arrangements for voice with piano, organ or violin accompaniment and violoncello obligato. We have the exalted melody prepared for choir and small orchestra. And last but not least is the concerto by Max Bruch. In the first bars of Beethoven's C# minor quartet, the opening theme of Kol Nidrei is recognizable. Thus has the music world come to consider this the most characteristic tune of the synagogue." (Idelsohn, The Kol Nidrei Tune, in: HUC Annual, Vol VIII-IX, 1931/2, p.493)
Max Bruch himself wrote the following on Kol Nidrei, in a letter to cantor and musicologist Eduard Birnbaum (4 December 1889):
"...I became acquainted with Kol Nidre and a few other songs (among others, 'Arabian Camel') in Berlin through the Lichtenstein family, who befriended me. Even though I am a Protestant, as an artist I deeply felt the outstanding beauty of these melodies and therefore I gladly spread them through my arrangement.
...As a young man I had already ...studied folksongs of all nations with great enthusiasm, because the folksong is the source of all true melodics---a wellspring, at which one must repeatedly renew and refresh oneself---if one doesn't admit to the absurd belief of a certain party: "The melody is an outdated view." So lay the study of Jewish ethnic music on my path." (translation kindly provided by Richard Schoeller.)
The prominent musicologist Idelsohn remarked the following on Bruch's Kol Nidrei (JM in its Hist. Dev, 1929):
"[Bruch's] melody was an interesting theme for a brilliant secular concerto. In his presentation, the melody entirely lost its original character. Bruch displayed a fine art, masterly technique and fantasy, but not Jewish sentiments. It is not a Jewish Kol-Nidre which Bruch composed."
As Bruch indicated in his letter, he himself did not consider his Kol Nidrei to be a Jewish composition, but just an artistic arrangement of... a folk tune! So, to Bruch, his Kol Nidrei was just one of the many arrangements he made of European folk songs.
Another interesting quote is the following:
"The two melodies [in Bruch's Kol Nidrei, IO] are first-class. The first is an age-old Hebrew song of atonement, the second (D major) is the middle section of a moving and truly magnificent song "O weep for those that wept on Babel's stream" (Byron), equally very old. I got to know both melodies in Berlin, where I had much to do with the children of Israel in the Choral Society. The success of "Kol Nidrei" is assured, because all the Jews in the world are for it eo ipso." (January 31, 1882, letter to Emil Kamphausen; translation by Fifield).
Lichtenstein
Incidentally, the Lichtenstein mentioned in one of the above letters was the cantor-in-chief of Berlin, who was known to have friendly relations with many Christian musicians of that time. Max Bruch was introduced to several Jewish melodies by Lichtenstein. Among those melodies were "Kol Nidrei" and the "Hebrew Melodies" of Isaac Nathans, with lyrics by Lord Byron. Another friend of Lichtenstein was Carl Loewe, who composed "Das Hohe Lied Salomonis," based on tunes that Lichtenstein sang for Loewe.
It is also interesting to mention that the conductor of Lichtenstein's choir was nobody less than Louis Lewandowski. Idelsohn proved that many of the compositions of Lewandowski were based on the chazzanut of Lichtenstein.
Source
All this information was taken from the following interesting paper:

Auteur      : Sabine Lichtenstein
Titel       : Abraham Jacob Lichtenstein:
              eine juedische Quelle fuer
              Carl Loewe und Max Bruch
In          : Die Musikforschung,
              ISSN 0027-4801,
              Vol. 49  (Issue 4),
              1996, 349-367 (19)

If anybody else knows of other scientific studies of either Bruch's Kol Nidre or Lichtenstein I'd like to get your references.
Read More
Have a look at the arrangement of Sam Englander (piano) or listen to a Midi representation of it. You can also study the arrangement of Salomon Sulzer (male choir).
Jewish Heritage Online features an article on the musical and cultural significance of Kol Nidrei. They provide some sound recordings of different traditions as well.
The San Fransisco Jewish Bulletin also features an article on the background of Kol Nidrei, with many interesting links.

Last update: 04 January 2006
Url: http://www.chazzanut.com/bruch.html
Keywords: Max Bruch, Kol Nidrei, Kol Nidre, Lichtenstein, sheet music, recording.