Comprehensive site on Jewish Liturgical Music (chazzanut), with a large collection of cantorial music scores, midi sound, annotated links and background information.

You can now read no less than 37 articles on chazzanut, describing the accomplishments of many important cantors and composers, from Samuel Alman to Samuel Vigoda.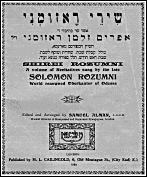 Solomon Rozumni (1866-1904) was one of the famous cantors in Odessa, noted for his capability to improvise recitatives.
We are very grateful to Jeff Forman, who scanned Rozumni's beautiful collection of recitatives, and made it possible to present this important material online.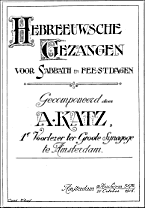 I am delighted that the musical heritage of cantor Abraham Katz (1881-1930) is finally accessible by the public at large. The manuscript (83pp, 1915) is a treat to look at.
Read further.
You can listen to a midi of Birkat Kohanim and Mishebeirakh.
I've made several mp3 recordings of Dutch Nusach, together with an elucidation. Nusach is the collection of traditional, melodic patterns used to recite the different Jewish prayers. It forms a central part of synagogue music.
You can listen to a mp3 of the Dutch wedding Kaddish (1.7M); it's a variant of the Minchah Kaddish of Yom Kippur. It comes from a private gramophone recording by the late Amsterdam chief cantor Bentsion Moskovits.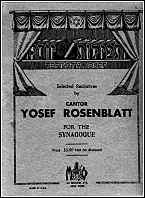 For the first time since 1928, the famous Recitative Book (39pp) of cantor Yossele Rosenblatt (1882-1933) is again available, now on my web site. I hope that this project will enable many people to fully enjoy the fascinating recitatives of the uncrowned King of Cantorial Music.
Read further.
You can listen to a mp3 of his Shir Hama'alot (2.8M), or a midi of his Hasheim Malakh and his Veshameru no I.
Some notes and references concerning the background of Bruch's arrangement of Kol Nidrei.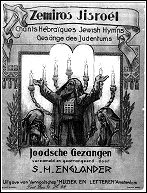 Sam Englander (1896--Sobibor 1943) was according to the well-known Dutch conductor Fred Roeske one of his most talented pupils. Englander achieved great triumphs as choir master of the Great Synagogue in Amsterdam. In 1928, his choir had been elected best Synagogue choir of Europe by the Jewish Chronicle.
Englander composed and arranged numerous pieces. Sadly, most of his work got lost during the war. All that remains is a booklet with Piano Arrangements of well-known Jewish melodies (1931), and his most important composition, Ahavti, for the Halleil prayer. Both are now available at Chazzanut Online.
Listen to a midi representation of his Ahavti, Kol Nidrei and Maoz Tzur.
A number of chazzanim endeavoured to transcribe the characteristic Dutch synagogue tunes. Two of those collections were printed and are now available here.
The first collection (1861) consists of a transcription of the traditional melodies for the Priestly Blessings, arranged for 2-part choir.
The second collection (1924) contains various tunes that were published in a Dutch prewar weekly.
Listen to the Passover (Addir Hu) and Shavuot (Akdamut) motive for the Priestly Blessings.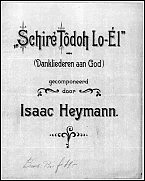 Isaac Heymann (1829-1906) was arguably the most important of all Dutch chazzanim. Unfortunately, although he left behind a complete oevre of Jewish choral music in a manuscript ready-to-print, only four of his "psalms for men's choir" were printed (1899). He proudly published these scores with a dedication to Queen Wilhelmina in gold script. The booklet contains enthusiastic reviews by some of the leading Dutch musicians of that time, after whom by now streets in Amsterdam are named.
Listen to Heymann's psalm 100, psalm 117 and psalm 150.
The best way to appreciate chazzanut is to listen to it. Therefore I compiled a discography of Dutch chazzanut.
"Ma'oz Tsur" is without any doubt the most popular Chanuka song. Did you know that the "Ma'oz Tsur" tune by many considered to be "traditional," is of German descent? Did you know that there exist several other melodies for it, as well as another related liturgical poem? Read and listen further.
I collected and reproduced 110pp of articles, expositions and interviews concerning Chazzanut and Jewish music, that were published in Dutch prewar weeklies, mainly in "The Friday Evening." I added a complete listing of sources.
If you have anything to comment on this site, or any questions regarding Jewish music in general, feel free to participate in our forum.
Annotated references to other important Jewish music resources online, such as music libraries and directories.
Annotated references to interesting Jewish music articles on other websites.
A list of websites devoted to persons in the world of Jewish music.
Websites loosely related to music, Jewish issues and Amsterdam.
In case you're curious, here's some information about myself.
For this non-commercial site the Bibliotheca Rosenthaliana granted permission to include items belonging to their collection. Reproduction of these items are subject to authorisation by the Bibliotheca Rosenthaliana, Amsterdam University Library.

Keywords: jewish music, mp3, midi, klezmer, yiddish, lyrics, download, free, sheet music, online, wedding, cantorial music, synagogue, choral, jewish holiday, prayer, shabbat, religion, joodse muziek, chazzanoet, chazanut, hazanut, chazan, hazan, Israel.