Chazzanut Online - Articles
Yosef (Yossele) Rosenblatt (I)
1882 - 1933

By Rabbi Geoffrey Shisler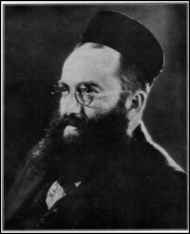 Yossele Rosenblatt was born on May 2nd 1882 in Biela Tserkov, in the Ukraine. He came from a long line of Chazanim and his father was a cantor in Kiev.
Yossele sang from a very early age. He became a member of his father's choir and was soon declared to be a 'wunderkind,' travelling throughout the Austro-Hungarian Empire, performing at countless synagogues.
At the age of 12 he met Taubele Kauffman and at the age of 18 Yossele married her and soon after accepted the position of Cantor at Muncaz in Hungary. This position he obtained against the competition of 40 other Chazanim.
From there he went to Pressburg, where he officiated for five years and during this period, he began to publish his numerous synagogal compositions.
He then stayed for six years in Hamburg and, according to his account, tried to run away to America. However he was 'overtaken on the steamer and brought back like a criminal.' (!)
When he eventually did arrive in the States in 1912, he was immediately engaged by the Congregation Ohab Zedek in New York and his fame soon grew. He recorded for various phonograph companies and this undoubtedly was influential in ensuring that his name spread all over the country.
After appearing in a particularly successful concert in Chicago, Yossele was offered $1000 per night to sing in opera. However, so great was his love for Yiddishkeit, that he turned it down.
In 1922 he was persuaded to enter into a business deal that left him bankrupt. This forced him to give up the pulpit and concentrate on concertising, in which there was the opportunity for him to make much larger sums of money, and so he made extensive tours, including coming to Europe.
In 1927 Warner Brothers offered Rosenblatt $100,000 to co-star with Al Jolson in 'The Jazz Singer,' but they could not persuade him to sing Kol Nidrei. He felt that it was much too sacred to be used as entertainment.
In 1928 he was engaged by the Anshei Sfard Congregation in Brooklyn and was paid $12,000 a year, the highest salary paid at that time to any Cantor.
Rosenblatt was delighted to be offered the chance to film in the Holy Land by the Palestine-American Fox Film Co. Although he was earning a good salary, he was still paying off the debts of his bankruptcy and, when he arrived in Palestine, in 1933, he was virtually penniless.
Sadly, on June 19th 1933 he was stricken by a heart-attack at the age of only 51. His funeral service was conducted by Chief Rabbi Kook and attended by more than 20,000 people.
Rosenblatt recorded about 180 compositions, most of which were his own.
© Copyright Rabbi G. Shisler
See Also

Keywords: Yosef Rosenblatt, Josef Rosenblatt, Yossele, Yosele, Yosselle, biography.